Talent Attraction Breakfast summary
Oslo Region Alliance and Oslo Business Region welcomed guests to a Talent Attraction Breakfast on Wednesday, March 30, 2022.
The background for the event was to bring together international, politicians, companies, organizations, municipalities, and others who are trying to make a difference for international high-skilled workers when arriving in Norway.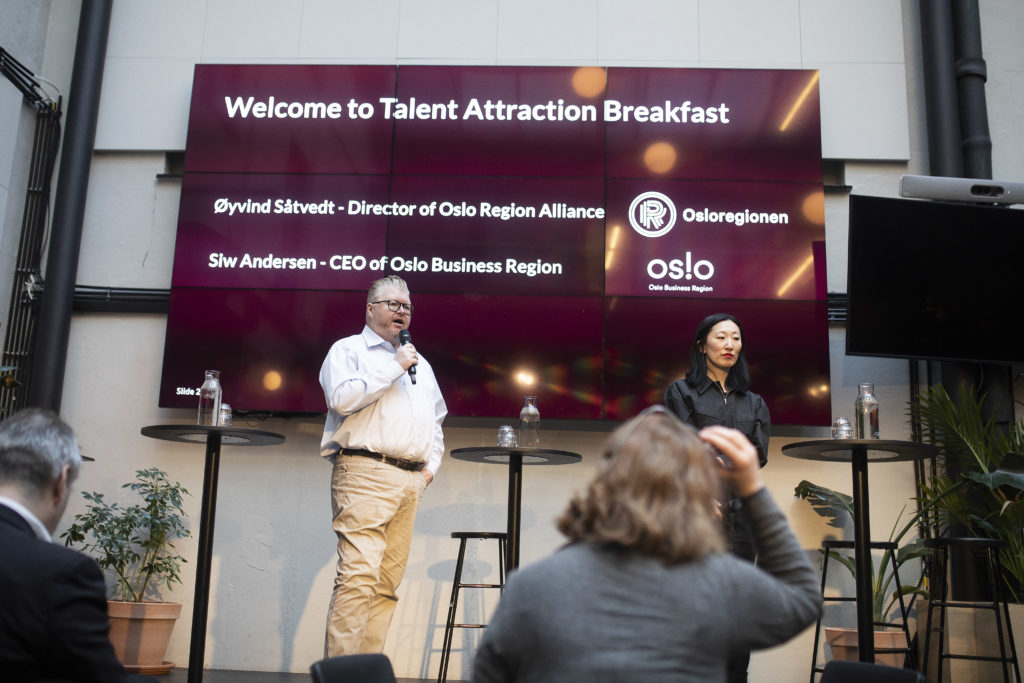 The need for talent
According to Sondre Jahr Nygaard from Abelia, there is already a big lack of talent in Norway and the need for skilled competence will only increase in the years to come. 1/3 of Norwegian companies are now looking to recruit from abroad (NHO report) due to lack of enough of the right competence in Norway. It is critical that Norway remains open and welcoming to international talent, as companies will not be able to stay competitive internationally without this expertise.
Internationals experience coming to Norway
So what is it like to relocate to Norway as an international? According to a survey that Oslo Region Alliance did in 2021, many internationals face big bureaucratic challenges with registering in the country, appointments with the police, and getting access to bank accounts.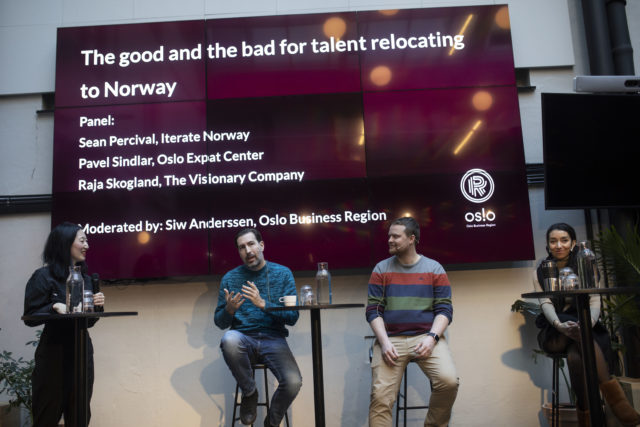 Our panel at the event consisted of Sean Percival (Iterate Norway) from the United States, Pavel Sindlar (Oslo Expat Center) from the Czech Republic, Raja Skogland (The Visionary Company) who is Moroccan-Swiss, and their experience in Norway includes being an investor, entrepreneurs, business owners, hiring managers, community leaders, lovepat among others. Some of the issues they brought up was related to the struggle with the Norwegian language barrier, weather, registering your move, getting identification numbers, bank accounts, and much more.
«You don't come to Norway unless you fall in love with a Norwegian… Otherwise it is hard as hell» – Sean Percival
Political support and willingness to address change
To make any real change to the situation of internationals, there needs to be support and interest from politicians for the issue. In January, Alfred Bjørlo and party colleagues of the Liberal Party introduced a Private Member's Bill (representantforslag) regarding an investor- and entrepreneur visa, along with suggestions for how to simplify the bureaucratic obstacles internationals face when relocating to Norway. Bjørlo spoke about the efforts that he have been working on, and afterwards participated in a political panel along with Andreas Unneland from Socialist Left Party, Solveig Vitanza (Labour Party) and Idar Kreutzer (Finance Norway).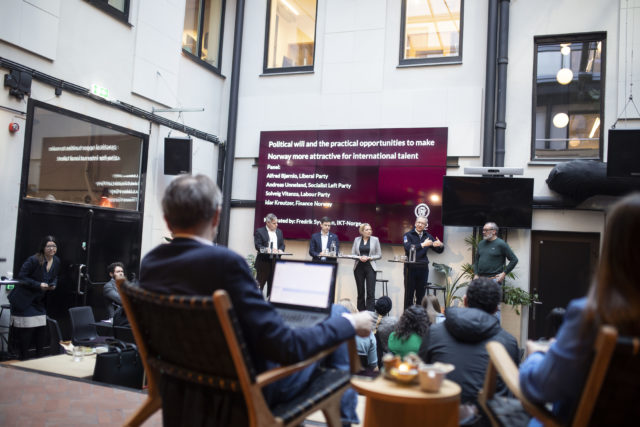 The panel discussed the green shift and the need for international talent and entrepreneurs to help with that transition. From the panel it was clear that there is a lot of support in theory, but the methods for making it better for internationals varied among the politicians.
«There is a lack of urgency… What we have seen in the debate [for the Private Member's Bill] is that other politicians say that the system is «quite ok», and we must not hurry. We need to do more research, know more before we do changes. And with that I disagree. We know enough, the system is not good enough today, and there is a hurry. We don't get more attractive [by not improving the system]» – Alfred Bjørlo, Liberal Party.
Idar Kreutzer also brought up that we have in the past created systems enabling a large number of workers from abroad to come to the oil sector, so changing the system when the needs for employment change, is not something new.
How do we keep the internationals who come here?
Christine Julia Feehan moved to Oslo 2,5 years ago and published during the fall a couple of LinkedIn posts about moving to Norway, which reached more than 100 000 people and sparked lively debates about the qualities of Norway. Feehan provided insights on her experience as a foreigner trying to find a job here, but also about how we keep internationals once they are here.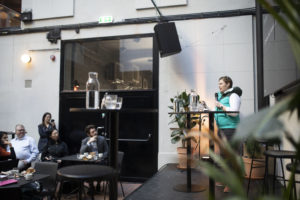 Hiring internationals is the company's job, then comes the need for other services
The final panel of the day was about what services and support internationals looked for when coming to Norway, and joining this panel were Andrew Gregory (Kongsberg International School), Gina Finsrud (Søndre Viken IPR and the City of Halden), Thea Pope (the City of Oslo), Ann Kristin Winje (Relocate2Norway) and Jyoti Sohal-David (Skillhus). It is important to know that it is not just the offer from the company that will help convince internationals to move to another country, but it is also what they can expect when arriving. International schools are very important for those with families, access to quality information is critical for any relocation, and having a support system through a network, proper onboarding by companies or relocation services will help in the adjustment to a new country.
Thanks for coming – we hope to discuss this issue with you further
We are very thankful for the wide participation by companies, internationals, recruiters, and everyone else for this event. Both Oslo Region Alliance and the Oslo Business Region will continue to work on the issues that were brought up and feel free to contact us if you have a proposal or wish to be included in future events and activities.
See the event here:
Thanks to the Oslo Desk for covering the event as well, read their article about the event here.