The bureaucratic obstacle course for internationals moving to Norway
One of the ambitions of the Oslo Region is to become an internationally attractive place to study, work and live. The competition for high skilled workers and students is increasing and Oslo and Norway need to work proactively when attracting talent to ensure that we are not falling behind. How do internationals who have already moved to Norway feel about the welcome they have received?

To understand the depth of the barriers and challenges internationals typically experience when moving to Norway, the Oslo Region Alliance launched a survey for internationals in 2021. We wanted to get a better understanding of how internationals are received and welcomed. Ultimately, the perception and experience these internationals have, will improve or hurt Norway's reputation as host country, and needs to be addressed at the appropriate levels of the government.
The survey received an overwhelming response, with 1373 replies from internationals living across Norway. As the need for talent is this urgent, it is disheartening to read the comments made by the talent who have already relocated to Norway, and to understand the depths of the challenges they faced by Norwegian bureaucracy. By looking at the responses, this report has identified five key challenges that need to be fixed.
More data and explanations can be found in the conclusions, read the whole report here: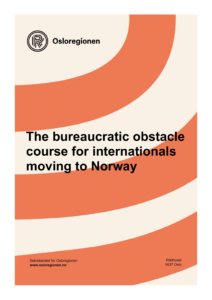 Report: The Bureaucratic obstacle course for internationals moving to Norway
Thank you to the international community for sharing their experience and willingness to support this survey, and thank you to Pavel Sindlar from the Oslo Expat Center, for your help with the survey and report.
For questions about the survey: 
Mari Strømsvåg
975 83 987
mari.stromsvag@osloregionen.no