IT Talent Recruitment Campaign Software Engineer and DevOps Engineer
Companies in the Oslo Region are experiencing big challenges in recruiting enough Software Engineers (developers, front-end, back-end, fullstack) and DevOps Engineers and will therefore create our first-ever, public-private recruitment campaign.
We invite companies to join!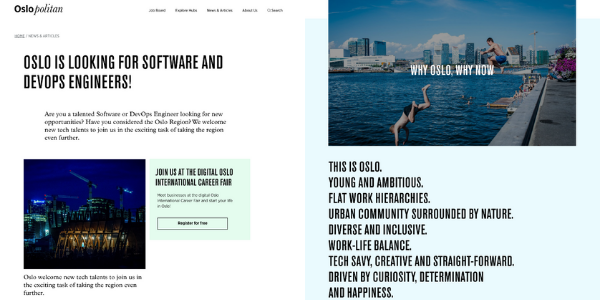 The Oslo Region Alliance is inviting your company to participate in an upcoming international talent attraction campaign promoting career opportunities in the Oslo region.
The global competition for talent is tougher than before, and we know very well that the demand for Software Engineers and DevOps Engineers is outrageously high, in Norway and abroad. The Oslo Region Alliance is therefore inviting your company to join our public-private collaboration as our first-ever joint recruitment campaign, where we together build the attractiveness of Oslo as a career destination.
We are inviting employers with vacancies in these two categories (Software Engineers and DevOps Engineers) to join the initiative on the simple condition that the companies are open to include pre-qualified candidates from this new, collaborative channel in their recruitment process.
Participating in this initiative requires commitment in time only. No financial contributions are expected in this pilot project, but you will get access to potential candidates! We want to recruit companies who are passionate about making Oslo a more attractive place to work for international talent, is this you?
The initiative is led by the Oslo Region Alliance, an alliance of 65 municipalities in the Oslo region with the goal to strengthen the Oslo region internationally as a competitive and sustainable region. It is carried out in collaboration with creative agency Los&Co, and Future Place Leadership, which specializes in how places and employers in partnership can attract talent.
See the slide deck for more information, and the FAQ for the most frequent questions about the campaign.
Are you ready to commit to the campaign? Send an email to Mari Strømsvåg mari.stromsvag@osloregionen.no/phone +47 975 83 987.
If you need to learn a little bit more before committing, we are hosting a launch session on October 29th at 13.00. Please join if you are curious to if you are interested in learning more before committing.
Deadline to join: November 3rd, 2021