Talent Attraction Breakfast: The good and the bad for talent relocation to Oslo
Date: March 30th, 08.30 – 11.00 (breakfast served from 08.00)
Place: Mesh Youngstoget Atrium, Møllergata 6-8, 0179 Oslo
Register for the event here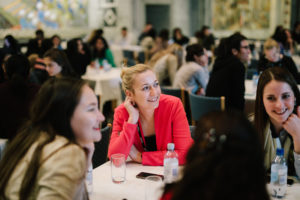 Access to talent is essential for companies in the Oslo region, and the competition between companies, cities, and regions is increasing across the world. How is Norway staying competitive for the attraction of talent and are we as welcoming as we should be? 
You are invited to the Talent Attraction Breakfast, hosted by the Oslo Region Alliance and Oslo Business Region, where we will spotlight the bureaucratic, political, and practical challenges related to international talent attraction and retention. The event will also look at the Oslo region's comparative advantages and identify ways to work closer together.
"Are you working with international talent attraction to Norway?
Attend our breakfast and learn about the latest political development, and how the Oslo region can be branded more attractive"
Studies show that Oslo is not attractive enough for international talent, and a survey from 2021 highlights the severity of international talents' experience of coming to Norway. To become more internationally competitive, and remain at the forefront of the green shift, companies in Norway and Oslo are dependent on recruiting from abroad. However, there are several bureaucratic obstacles when employees arrive in Norway. These challenges result in international talents having a bad experience when moving to Norway, causing unnecessary stress and frustration for companies and the talents,  and Norway's reputation as a nation is negatively affected.
The event will be streamed in case you can't attend. Register here and you will receive the link. 
Preliminary Program: 
Breakfast and mingle

Welcome by Øyvind Såtvedt from Oslo Region Alliance and Siw Andersen from Oslo Business Region
The bureaucratic and political barriers for talent relocation
Sondre Jahr Nygaard (Abelia) will talk about the need for skilled competence

A panel of internationals who have had to learn the hard way what moving to Norway entails with Sean Percival (Iterate Norway), Pavel Sindlar (Oslo Expat Center), Raja Skogland (The Visionary Company). 

Alfred Bjørnlo from Venstre will talk about Venstre's initiative to introduce "Gründer and Investor visa"

Political debate about the challenges international face, participation by Alfred Bjørlo from Liberal Party, Andreas Unneland from

Socialist Left Party

,

Solveig Vitanza from Labour Party

and Idar Kreutzer from Finance Norway, moderated by Fredrik Syvertsen, IKT-Norge.

Coffee break and mingle
The attractiveness of Oslo for international talent and how can we improve it
«International talent attraction is harder than it sounds and much harder than you think» with Christine Julia Feehan, Link Mobility

Branding Oslo for international talent by Siw Andersen, OBR

Panel discussion on the topic of what does international talent look for when moving to another country, and what is important for a good relocation process, with Andrew Gregory (Kongsberg International School), Gina Finsrud (Søndre Viken IPR and the City of Halden), Thea Pope (the City of Oslo), Ann Kristin Winje (Relocate2Norway) and Jyoti Sohal-David (Skillhus)

Summary of Osloregionen and Oslo Business Regions efforts for Talent Attraction and closing remarks
Register for the event today, and bring along colleagues and others interested in international talent attraction!