POSTPONED – The competitiveness of the Oslo Region: International talents
The event has unfortunately been postponed until further notice due to the current COVID situation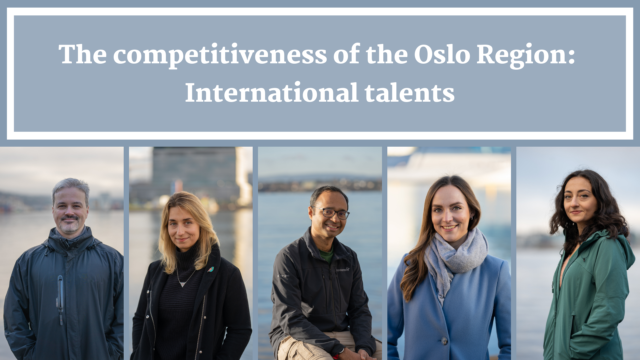 On December 8th, you are invited to share, learn and participate in discussions on how Oslo and the region can become more attractive internationally as a place to live, study and work. By bringing together stakeholders from both the private and public sectors, the aim of the event is to learn what initiatives are already existing and find opportunities to work together.
Many businesses in the Oslo region are reliant on recruiting international talent to cover their professional needs, which combines poorly with Abelia's 2021 report states that Norway is falling on the rankings as an attractive place to work. What can we do to improve this? What are some best practices for both the public sector and private sector to develop? Is Norway doing its best to welcome internationals?
At the event we will hear from Abelia and Finn.no about the needs and trends in the labor market, we will hear from both municipalities and other public initiatives to make the Oslo region more attractive for international talent, onboarding, and retention of talent. We will also hear from companies and organizations working to attract talent and the challenges they face. Additionally, we will hear from several internationals who have made the decision to move to Oslo, and their experiences. We will end the event with a political discussion with both local and national politicians (to be confirmed). But, most importantly, we invite the attendees to share their experience, knowledge, and best practices.
Register to attend the event today!
Time: December 8th, 08.30 – 12.00 (breakfast and registration from 08.00)
Place: Atrium, Mesh Youngstorget, Møllergata 6-8, 0179 Oslo.
The event language will be in English to ensure true internationalization and openness to international participants. 
Topics and speakers:
Trends and needs by the business community
What do the trends and statistics say about the need for competence? What are the recruitment trends after COVID?
By Christopher Ringvold, Finn.no
What does the business community need in the future, and what are the challenges companies face in international recruitment?
By Øystein Eriksen Søreide, Abelia
How do municipalities work to facilitate for international talent?  
Søndre Viken IPR of Halden

Municipality


By Gina Finsrud, Halden Municipality

Kongsberg International School: What is the value of an international school for the local business community?
By Hilde Bakken, Kongsberg International School

Other initiatives such as 

Oslopolitan

, Welcome to Oslo and other initiatives.
By Mari Strømsvåg, Osloregionen
(Open mic)

Possible with input from the audience
Recruiting, onboarding and retaining – the everlasting process of hiring international talent 
What makes a company internationally competitive and attractive for talent?
What are the major obstacles when onboarding international talent?
By Ann Kristin Winje, Relocate2Norway


University of Oslo's ambition for international recruitment


By Viserektor Bjørn Stensaker, Universitety of Oslo
(Open mic)

Possible input from the audience
Panel conversation about the process internationals see when moving to Norway
Questions: 
Mari Strømsvåg
mari.stromsvag@osloregionen.no
975 83 987